Heart of Texas Surgery Center
Heart of Texas Cath Lab
Heart of Texas Surgery Center and Heart of Texas Cath Lab specializes in the treatment of diseases and disorders that are associated with the heart. Ours is a hybrid center, where both surgery and cath lab are available in one center. We provide complete and one on one attention and we are committed to provide quality care and timely response to our patients.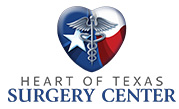 To ensure patient care is delivered by highly trained physicians, backed by a well-qualified staff, in comfortable yet modern facilities.
To continuously improve the delivery of services in our community by providing the best quality of healthcare professionals, equipment and technology.
Respect - Treat everyone with dignity and maintain a professional attitude.
Preoperative Instructions
Depending on your insurance plan, you may be required to make a pre-payment on the day of your procedure.
This would include co-payments, coinsurance and deductibles. Someone from our facility will be contacting you
regarding your estimated fee.
"Fees depend on your procedure, and you could be charged additional fees from one or more of the following"